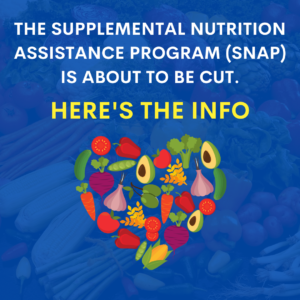 NC SNAP program
Here's what's happening: The Supplemental Nutrition Assistance Program (SNAP) is about to be cut. 
In response to the ongoing COVID-19 outbreak, Congress authorized states to use temporary SNAP emergency allotments (EAs) in March 2020. Additional benefits from SNAP during the pandemic were very important for many people to meet their families' nutritional needs.
But for millions of families, the deadline for SNAP EAs just ended this month in most U.S. states and territories. Because of this change, when the EAS runs out, the average SNAP benefits will drop to just $6 per day per person.
At the minimum benefit level, older people will be hurt the most because their monthly SNAP benefits will go from $281 to $23, but everyone who gets SNAP will be affected. Families need a stronger SNAP program because costs for food, housing, transportation, childcare, etc., are increasing while SNAP extensions are ending.
In the past few months, the Republican-controlled US House of Representatives has made several threats against SNAP, such as calling for stricter work requirements that would make it harder for hungry families to get the food they need (note: SNAP already has a stringent work requirement for many individuals). The US House GOP also threatens to cut benefits even more drastically.
Here in NC, our emergency SNAP benefits ended in Feb. If your own SNAP benefits are going to be cut, reporting changes might help you get more food stamps. Click on this link to learn more about what reporting changes could be helpful to you.
https://legalaidnc.org/extra-food-stamps-are-ending/
Despite the EA cuts, Pandemic-EBT benefits in North Carolina will continue for the 2022-23 school year until the federal Public Health Emergency ends on May 11, 2023.
This year, Congress will pass a new Farm Bill. This is the main legislation that says how SNAP works and what benefits will be. We must ensure that our leaders take advantage of this chance to assist struggling families and give them the help they need. We must also ensure that our elected leaders know that SNAP benefits the economy. For every dollar spent on SNAP, between $1.50 and $1.80 is spent in the economy.
To find your local DHHS office, where you can learn more about your benefits and the possibility of increasing them, click the first link. For information on food bank resources, click on the second link. 
 https://www.ncdhhs.gov/divisions/social-services/local-dss-directory
https://www.needhelppayingbills.com/html/north_carolina_food_banks.html