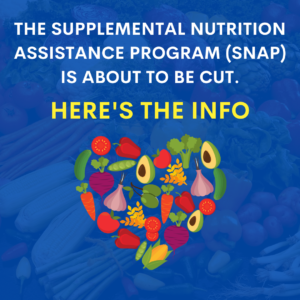 NC SNAP program
Here's what's happening: The Supplemental Nutrition Assistance Program (SNAP) is about to be cut. 
In response to the ongoing COVID-19 outbreak, Congress authorized states to use temporary SNAP emergency allotments (EAs) in March 2020. Additional benefits from SNAP during the pandemic were very important for many people to meet their families' nutritional needs.
But for millions of families, the deadline for SNAP EAs just ended this month in most U.S. states and territories. Because of this change, when the EAS runs out, the average SNAP benefits will drop to just $6 per day per person.
At the minimum benefit level, older people will be hurt the most because their monthly SNAP benefits will go from $281 to $23, but everyone who gets SNAP will be affected. Families need a stronger SNAP program because costs for food, housing, transportation, childcare, etc., are increasing while SNAP extensions are ending.
In the past few months, the Republican-controlled US House of Representatives has made several threats against SNAP, such as calling for stricter work requirements that would make it harder for hungry families to get the food they need (note: SNAP already has a stringent work requirement for many individuals). The US House GOP also threatens to cut benefits even more drastically.
Here in NC, our emergency SNAP benefits ended in Feb. If your own SNAP benefits are going to be cut, reporting changes might help you get more food stamps. Click on this link to learn more about what reporting changes could be helpful to you.
https://legalaidnc.org/extra-food-stamps-are-ending/
Despite the EA cuts, Pandemic-EBT benefits in North Carolina will continue for the 2022-23 school year until the federal Public Health Emergency ends on May 11, 2023.
This year, Congress will pass a new Farm Bill. This is the main legislation that says how SNAP works and what benefits will be. We must ensure that our leaders take advantage of this chance to assist struggling families and give them the help they need. We must also ensure that our elected leaders know that SNAP benefits the economy. For every dollar spent on SNAP, between $1.50 and $1.80 is spent in the economy.
To find your local DHHS office, where you can learn more about your benefits and the possibility of increasing them, click the first link. For information on food bank resources, click on the second link. 
 https://www.ncdhhs.gov/divisions/social-services/local-dss-directory
https://www.needhelppayingbills.com/html/north_carolina_food_banks.html
Moore v. Harper
Moore v. Harper, a lawsuit the Supreme Court heard last December, poses the biggest threat to US democracy since the January 6 attack on the US Capitol — although it's worth noting that even some of the Court's more conservative members seemed to recoil at some of the case's implications when they heard oral arguments in Moore in December.
On Thursday, the justices signaled that they are likely to take an off-ramp from this case. The Court released a brief, one-paragraph order indicating that this case may simply disappear.
READ MORE AT: https://www.vox.com/politics/2023/3/2/23622717/supreme-court-moore-harper-anti-democracy-case-elections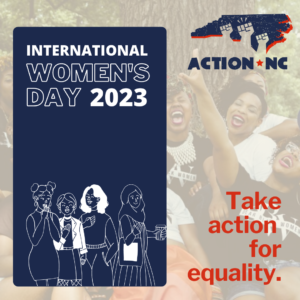 International Women's Day
March 8, 2023 marks International Women's Day, a chance to celebrate women everywhere and be reminded of the inequalities women face everyday.
Here are 8 ways you can empower women:
1 – PROVIDE FINANCIAL SOLUTIONS
2 – TEACH VOCATIONAL AND BUSINESS SKILLS
3 – INCREASE INCOMES AND SAVINGS
4 – BUILD SELF-ESTEEM AND CONFIDENCE
5 – IMPACT HEALTH
6 – BUILD SOCIAL NETWORKS
7 – CREATE PUBLIC LEADERS
8 – TELL THE WOMEN IN YOUR LIFE THAT YOU CARE
Through meaningful collaboration, we can help women advance and unleash the limitless potential they offer to economies throughout the world.
#womensinternationalday #happywomensinternationalday #supportwomen #empowerwomen #womendeserveequalpay #womensequality #actionnc #rageactionnc #rage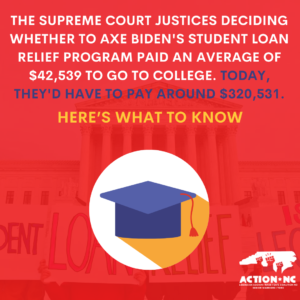 Biden's Student Loan Relief Program
The court's ruling would impact the lives of millions of student loan borrowers including the 20 million borrowers that the White House estimates would have their balances completely wiped out. But according to historical tuition data, the price of college has changed astronomically since the justices were in school.
Four of the nine justices graduated throughout the 1970s, a time when the average student loan debt was around $1,000, according to data from the research group The Education Data Initiative. By 2021, the average student debt at graduation was around $31,000, the group reported, citing federal data.
Read more at: https://www.businessinsider.com/then-vs-now-cost-of...
It's unlikely we'll know how the justices will rule until June, but spectators on both sides of the issue found reasons to celebrate after Tuesday, February 28, 2023 arguments.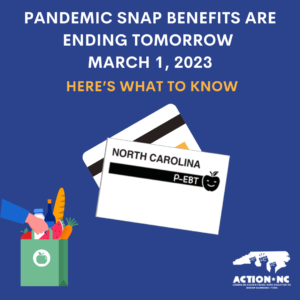 Pandemic SNAP Benefits Ending
-A Pandemic boost to the Supplemental Nutrition Assistance Program is coming to an end on March
-SNAP benefits will be cut in 32 states next month where the average household will lose $95 in food assistance.
-Those that are concerned about a change to their benefits should contact their local SNAP office.
Millions of Americans are going to lose a temporary boost in federal food assistance once pandemic-related SNAP benefits end next month.
Here are a few things to know before the change takes place:
Why are the emergency allotments ending?
The COVID-19 pandemic thrust thousands of people into a level of food insecurity that they had never experienced before.
And Congress passed the Families First Coronavirus Response Act to boost SNAP benefits to help low-income families during the early days of the pandemic.
GRASSROOTS ORGANIZATIONS NEED HELP
Members of the public, including community advocacy groups, asked Tuesday about additional funding. Panelists who responded represented larger and legacy nonprofit organizations such as Atrium Health, the United Way, Habitat for Humanity and Goodwill Industries.
Tiffany Fant, executive director of climate justice organization Sol Nation, and Apryl Lewis, community organizer with housing justice organization Action NC, both asked when money would be directed to grassroots organizations that directly help Charlotteans get jobs and housing.
MAP: Charlotte's affordable housing
Laura Clark, president and CEO of United Way of Central Carolinas, announced that going forward the majority of her organization's funding would go to grassroots, neighborhood-based organizations. Dionne Nelson, president and CEO real estate development group Laurel Street, said her organization is open to including more neighborhood organizations in conversations.
"I will admit that these last couple of years, it's been hard to do what we always used to do," Nelson said. "So we've been buried in, trying to dig out of what we committed to deliver to the city in 2019 and 2020, has been difficult to action.
read more: https://digitalbranch.cmlibrary.org/charlotte-journalism-collaborative/is-50-million-enough-for-affordable-housing-and-4-more-charlotte-summit-takeaways/
Housing Justice Coalition Call to Action:
Tenants' Rights
1. City and County governing bodies shall fund and enact the Right to Counsel:
Representation for tenants in eviction proceedings;
2. City and County governing bodies shall facilitate education about eviction process through grassroots organizations and government (i.e. appeal);
3. City Council shall pass an ordinance for Housing voucher acceptance that eliminates source of income discrimination
4. Local governing bodies shall enact Right of first refusal for tenants when landlord decides to sell a property;
5. The City and the County alongside nonprofits and legal advocates shall work toward the establishment of Eviction expungement at the local level;
6. The City shall track and publish annual Housing metrics such as the number of summary ejectments filed in Mecklenburg County Small Claims Court;
7. Housing Justice Coalition CLT shall work toward creating metrics to measure the impact of local housing organizing groups, nonprofits, and advocacy organizations;
8. Landlords shall create incentives for tenants who attend housing trainings on tenants' rights and obligations convened by organizations such as TORC, Eviction is Real, Inc, and other tenant advocacy groups;
9. The City shall promote and provide logistical, financial and material support for social housing, land banking, especially as alternatives to selling city-owned land to private developers.
10. The City shall create an office for Tenant/renter assistance and counseling;
Gentrification & Displacement
11. Housing Justice Coalition CLT shall create organizing toolkits to empower neighborhoods and community associations with tools to create community power and to hold leaders accountable;
12. The City shall pass Local legislation that increases the oversight & accountability of community members in local decision making impacting displacement;
13. The City and County shall increase funding for programs that are preventing displacement such as RAMP, Tax relief programs and other related programs;
14. The City shall facilitate the procurement of materials, land and resources for local organizations seeking to preserve land/housing and provide additional opportunities for upward economic mobility in rapidly gentrifying areas;
15. The City and County shall aggressively fund community land trusts and provide a right of first refusal to community land trusts when City or County owned land is up for sale;
16. City Code Enforcement shall not enforce demolition of home owner occupied homes in distressed neighborhoods wherein there are high levels of displacement;
17. The City shall increase Down payment assistance funds and speed up the process for these funds to reach prospective homebuyers;
18. The City and County shall take immediate action to curtail corporations from buying homes. This includes but it is not limited to strengthening provisions of the proposed UDO overlay districts, providing logistical support for the use of restrictive covenants in applicable neighborhoods, passing an ordinance to further protect neighborhoods etc;
19. The County shall reinstate and where applicable, make property tax relief plans more available to a wider range of citizens;
20. The County shall increase homestead tax exemptions based on what is exempted by the Homestead Act and the full tax bill in addition to lowering the age requirement for eligibility for homestead tax exemption;
Community Benefits & Development Policy
21. The City shall pass a Community Benefits Ordinance that mandates community benefits for projects that receive public incentives similar to the ordinance recently passed in Richmond, VA. (public land, tax incentives etc.);
22. The City shall adopt a robust community benefits package with reference to the Community Benefits Task Force;
23. The City shall expand community notifications and alerts to community groups such as Housing Justice Coalition CLT and the Charlotte Community Benefits Coalition for community meetings regarding developments that impact neighborhoods (such as rezonings, City Council votes on issues that impact neighborhoods);
24. The City shall generate and disseminate a map of pending developments with information about community meetings, project timelines etc;
25. The City shall create a Comprehensive impact assessment for development projects that receive at least $10 million in public funding;
26. The City and County shall establish a cap on campaign donations from developers and create standard accountability metrics on such donations;
27. The City and County shall enact an Excise tax on development projects as an incentive to generate public benefits for development projects that receive public funding;
28. The City shall require any development project that receives public funding to provide a minimum of 20% affordable housing as a contractual obligation for receiving public funds.
Final Statements
29. Local governing bodies shall take all available actions and utilize all available resources to make housing as a human right a reality for all citizens;
30. Housing Justice Coalition CLT will continue to work for housing as a human right through education, policy advocacy and community organizing informed by our mission and this platform;
31. Housing Justice Coalition CLT will continually reassess and amend this platform as necessary to address material conditions of houselessness and economic injustice in the Charlotte Mecklenburg area
Read more: https://www.wsoctv.com/news/local/housing-advocates-call-charlotte-city-council-do-more-affordable-housing/4Q6REON435DUTB7VDUHDKMWTMY/
The Right to Housing is Becoming a Reality
Backed by faith communities, the housing justice movement is racking up wins against landlords and banks profiting off of what should be a human right.
Apryl Lewis is in a housing fight — again. This time, she is pushing to keep dozens of families from being put out of a Charlotte extended-stay motel that is scheduled to be shut down in a matter of weeks. Such motels cost as much as $500 each week, expensive compared to long-term housing. But many of these families are living paycheck-to-paycheck or on fixed incomes, and have no other option.
"They can't afford the move-in costs for an apartment," Lewis said. "Landlords want up-front rent and utilities and a security deposit. Now they are even making people pay for rental insurance."
Others stay at the motel because they are shut out of traditional housing due to a past eviction or criminal record. Some simply can't find a suitable place to live in a time when rental vacancies are at historic lows.
The good news for the motel residents is that this is not Lewis's first fight. An organizer for Action NC, Lewis coordinated "Cancel Rent" protests at the local courthouse in the early days of the COVID pandemic, led tenants in chants of "housing is a human right" at various government meetings, and organizes canvassing and phone banks, pulling together tenants to advocate for their rights. A current focus is calling out corporate landlords, like the one in Charlotte who was repeatedly cited for refusing to address rampant mold, vermin and dangerous wiring.
Read more: https://wagingnonviolence.org/2022/10/how-activists-are-making-right-to-housing-reality/
North Carolinians Against Evictions
CHARLOTTE, N.C. -- Groups in Charlotte, Raleigh, and Winston-Salem joined a national uprising calling for eviction courts to be closed and rent and mortgages to be canceled through the pandemic.
Those affected by the crisis, such as Nicole Cureton, shared their story at the demonstrations in North Carolina. Cureton, who is not currently working, spoke at the Charlotte event. She said her landlord gave her a notice to vacate the property she's renting because he's selling it.
"As I said, I'm in court this Friday fighting for my human rights, fighting for my children, fighting for my family so we won't get evicted," Cureton says. "I will not stop fighting until we have won. We have all won."
Nakitta Long in Winston-Salem says her landlord told her she had to leave her home by October.
"I lost my job due to COVID-19 and my landlord decided to put the house up for auction and I have two children, 17 and 4, and I have been struggling to pay the bills, keep everything caught up," Long says. "We are not lazy. We're not looking for a handout. We just want to live."
Action N.C. organized the event in Charlotte. Apryl Lewis, who is the co-founder of Action N.C.'s Tenant Organizing Resource Center, says the eviction moratorium and the freeze on rent and mortgages is necessary to prevent homelessness and small businesses from going bankrupt.
"We want people to stay at home and stay safe, if they don't have a home, they can't stay at home," Lewis says.
In addition, she's advocating for the passage of House Bill 1200 in North Carolina, which will allocate $200,000,000 to the coronavirus relief fund to help struggling homeowners and renters.
Read more: https://spectrumlocalnews.com/nc/charlotte/news/2020/09/02/north-carolinians-join-demonstrations-against-evictions
Greater Accountability from Richmond Federal Reserve Bank
The streets of Richmond's financial district echoed with calls for accountability last week as activists gathered outside the Federal Reserve Bank of Richmond to call for better transparency and representation following a series of scandals among the nation's banking leadership.
Among the speeches and chants from those present at the Oct. 19 rally, which included members of SPACEs in Action and Action NC, was a demand that the Richmond Federal Reserve establish a better process to select its board of direc- tors and presidents that ensures greater public involvement and a more diverse leadership.
"It is of urgent importance that the public members of the board actually represent the public," said Apryl Lewis of Action NC. "We are here to demand representation for our community."
SPACEs in Action and Action NC are part of the Center for Popular Democracy's national Fed Up Campaign, which has been working to ensure the Federal Reserve's actions are in the economic interests of all in the country, from full employment for working families to increasing wages.
Read more: https://richmondfreepress.com/news/2021/oct/28/activists-demand-greater-public-accountability-ric/