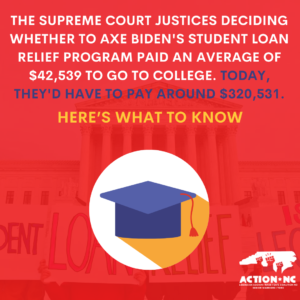 Biden's Student Loan Relief Program
The court's ruling would impact the lives of millions of student loan borrowers including the 20 million borrowers that the White House estimates would have their balances completely wiped out. But according to historical tuition data, the price of college has changed astronomically since the justices were in school.
Four of the nine justices graduated throughout the 1970s, a time when the average student loan debt was around $1,000, according to data from the research group The Education Data Initiative. By 2021, the average student debt at graduation was around $31,000, the group reported, citing federal data.
Read more at: https://www.businessinsider.com/then-vs-now-cost-of...
It's unlikely we'll know how the justices will rule until June, but spectators on both sides of the issue found reasons to celebrate after Tuesday, February 28, 2023 arguments.